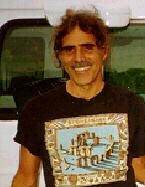 Andrew Tomasi Raymond
A Word From Andy

If I were to be really honest, I would have to say that I wrote Secrets of the Sphinx for me. After years of searching for the meaning of life, and the relationship between science, religion, and mythology, I realized that I would not want to commence any future incarnations wthout the information Secrets of the Sphinx contains. Just as important was my concern for you — my fellow earth-mates and teachers. This book is designed to take much of the information that I have received from inside and outside of myself over the years and return it in a much lighter and somewhat more sensible configuration.
My childhood view of life as a "burdensome test" had me daydreaming of ways to get off this planet, so I could "play" in the spiritual realm for eternity. This view of reality caused me to spend a lot of my life searching for the meaning of truth — in between my adult toys, love affairs, and the daily rigors of life.
On the surface, I was a ham radio operator at fourteen who worked part-time in a grocery store and maintained a passing grade in the religious school I attended in Vermont. By the age of eighteen, my family moved to California. I worked after school and purchased the used car of my dreams — a 1955 Chevrolet convertible.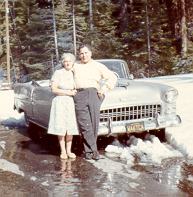 Mom & Dad - Sequoia National Park
Eventually, I mustered up the nerve to shatter one of my parent's dreams. I quit junior college, moved out, and became an apprentice electrician in a near-by town. Having an innate knowledge of how everything worked in the mechanical world, I did really well, but my restlessness with life caused me to lose this job after many years.
This abrupt change provided me with the space to sell everything I owned and return to college in my early thities for four years. Being quite determined to understand some of the religious conflicts that were bugging me from within and without, I made up my mind that I was going to be schooled in subjects that I had a natural quest for. My search for meaning took me through metaphysics, sociology, parapsychology, music, science, anthropology, world religions, and philosophy for starters.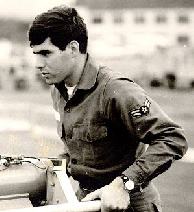 Andy - 1968
Deep inside, I was still in conflict, as I hadn't synthesized all of this new information with my childhood indoctrination yet. After I graduated from college and was honorably discharged from the Air Force-National Guard, you could have found me tuning and rebuilding grand-player pianos, walking the streets barefoot, hiking in the woods, and hitchhiking across the country as I searched for the meaning of life and love. You might have also observed me during the years I lived in Malibu and routinely borrowed a friend's Rolls Royce or Mercedes to cruise the streets of Hollywood. A few years later you would have found me living in a 1968 Volkswagen camper as I traveled between Florida, Vermont, and California trying to help my aging parents.
In the fall of 1983, I arrived in San Francisco with twenty dollars left to my name. I saw an advertisement for a bell-man position at a "Five Star-Five Diamond" hotel. Being an honest man and having good references from the years I was a Best Western motel manager, I was hired. I soon found myself eye to eye with many of the top people in the world as I delivered luggage to their hotel rooms over the next few years.
After another relationship breakup, the forces of the universe moved me to Hawaii. I ended up on Maui as a Hana tour driver with Ekahi Tours. Between 1989 and 2010, I conducted a ten hour adventure on some very rough roads into nature with up to fourteen fellow-soul mates from around the world. It was these tourists who made it clear to me that they wanted to know more about what I had discovered in my search. They would ask; "Why aren't you teaching us in college? Why aren't you speaking at our convention tomorrow? Where can we get more information on the subjects you have exposed us to?"
I would smile and ask if they would rather be in concrete buildings under florescent lights or out by these waterfalls? Within the long silence that would follow, the van would hit another bump as we all marveled at the scenic wonders being exposed before our eyes. At some of the different stops we made along the way, a scientist who put people on the moon, a housewife who raised children, a religious leader on vacation, or a person with less than a year to live, would share with me their experiences and what they knew.
Out of all of these experiences and other forces in my life, Secrets of the Sphinx was born.
Love Andy

"Secrets of the Sphinx" is Available at Amazon
UNI Productions
Box 880450
Pukalani, HI 96788-0450